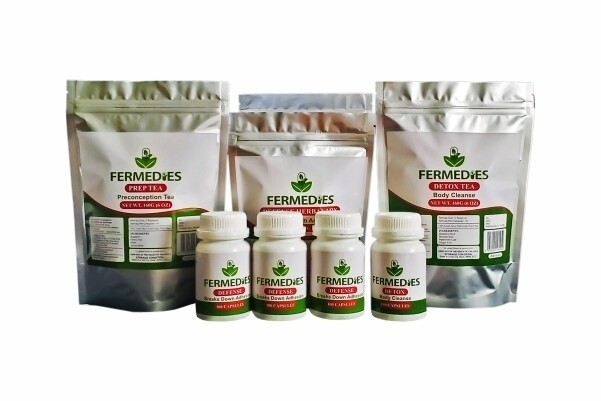 Blocked Fallopian Tubes Kit
SKU Blo/Fal/Tub/Kit
Product Details
Blocked Fallopian Tubes Kit is designed to break down adhesion and inflammation in the fallopian tubes, open up blocked tubes, support proper fallopian tubes function and enhance fertility to support women to conceive naturally.
Product Benefits

Gently detoxify the body system daily and prevent the body from accumulating toxins.

Reduce inflammation in the fallopian tubes and assist in killing bacteria and infections.

Break down adhesion and scar tissue from the fallopian tubes to support fallopian tubes healing.

Purifies the blood and increase blood circulation to the fallopian tubes.

Eliminate inflammatory response and bring balance to the fallopian tubes and reproductive organs.

Open up fallopian tubes and enhance fertility at the same time for a quick conception.

Help a woman to achieve pregnancy, even if it is only one tube by enhancing the tube.

Cleanse the womb, strengthen the overall reproductive organs and help you conceive naturally.
Product Facts

Content:
Blocked Fallopian Tubes Kit Contains:
1 Fertility Cleanse Kit (1 Detox Capsule and 1 Detox Tea)
1 douch bottle
1 pouch bag of Chamomile Tea
3 pouch bags of Prep Tea
3 pouch bags of Defense Herbal Mix
3 bottles of Defense Capsule
Ingredients: Motherwort, Siegesbeckia, Tribulus, Astragalus, Red Clover, Calendula and other selected product blends.
How to Take: Take one capsule 3 times daily with a glass of water. Refer to the product guide.

100% Pure Herbal Blend: No added wheat, soy, yeast, gluten, artificial color, flavor or preservative.

Certification: Nafdac Certified.
Save this product for later