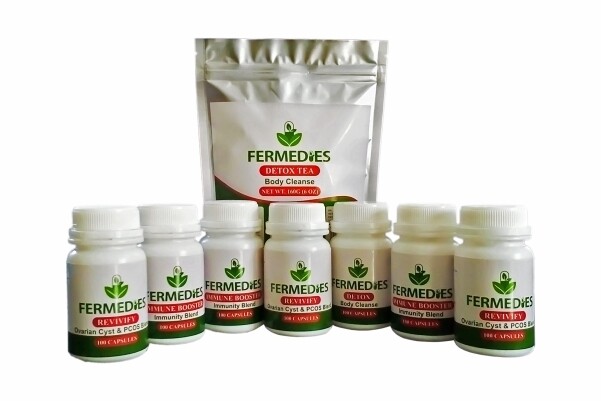 Revivify Kit
SKU Rev/Kit
Product Details
Revivify Kit is designed to assist women with Ovarian Cysts and Polycystic Ovarian Syndrome (PCOS), improve the overall function of the ovarian hormone, and help women fall pregnant naturally.

Product Benefits
Cleanse the body systems and assist women with Ovarian Cyst or Polycystic Ovarian Syndrome (PCOS).

Balance your reproductive hormone levels which help to avoid ovarian cyst to develop.

Regulate your menses bringing long menstrual cycles to normal and help relieve painful periods.

Help control stress hormones and increase your resistance to infections and allergens.

Boost your immune system and assist your body to be able to rid itself of ovarian cysts.

Assist your body to be able to remove abnormal cells safely.

Prevent the overproduction of testosterone, the male hormone and mitigate unwanted hair caused by ovarian cyst or PCOS in women.

Provide your body with lots of nutrients to help support your overall health and well-being.

Help improve the ovarian hormone and the overall function and boost your fertility to get pregnant naturally.
Product Facts

Content:
Revivify Kit Contains:
1 Fertility Cleanse Kit (1 Detox Capsule and 1 Detox Tea)
3 bottles of Revivify
3 Bottles of Immune Booster

Ingredients: Saw Palmetto, Wild Yam, Dong Quai and other selected product blends.
How to Take: Take one capsule 3 times daily with a glass of water. Refer to the product guide.

100% Pure Herbal Blend: No added wheat, soy, yeast, gluten, artificial color, flavor or preservative.

Certification: Nafdac Certified.
Save this product for later