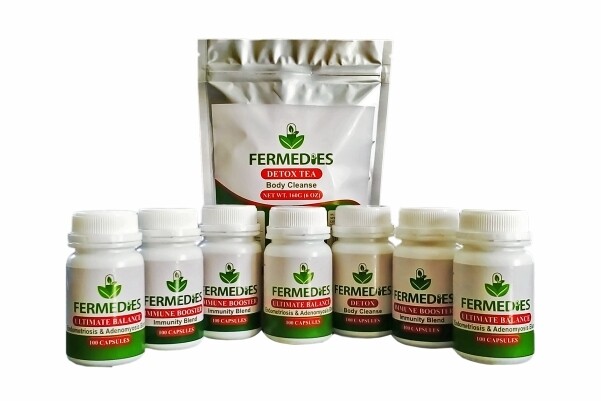 Ultimate Balance Kit
SKU Ult/Bal/Kit
Product Details
Ultimate Balance Kit is designed to treat endometriosis and adenomyosis conditions, and increase your chances of getting pregnant naturally.

Product Benefits
Cleanse the body systems of toxins, drug residues and reset your health.

Balance hormones and relieve the pain and other symptoms associated with endometriosis and adenomyosis.

Ease heavy menstrual bleeding and blood clots.

Help to stop the invasion of new foreign tissue growth and keep the existing foreign tissue growths under check.

Reduce abdominal congestion and regulate menstrual cycles.

Reduce cramps and spasms, decrease the symptoms of PMS and encourage the uterus to relax.

Enhance your reproductive health and fertility.

Provide your body with a variety of vitamins to support your uterus.

Support the optimal functioning of the uterus to encourage conception.
Product Facts

Content:
Ultimate Balance Kit Contains:
1 Fertility Cleanse Kit (1 Detox Capsule and 1 Detox Tea)
3 bottles of Ultimate Balance
3 bottles of Immune Booster
Ingredients: Jamaican Dogwood, Goldenseal, Rehmania, Wild Yam, Cramp Bark and other selected product blends.
How to Take: Take one capsule 3 times daily with a glass of water. Refer to the product guide.

100% Pure Herbal Blend: No added wheat, soy, yeast, gluten, artificial color, flavor or preservative.

Certification: Nafdac Certified.
Save this product for later